27 Jul

HEALTH CENTER UŽICE EQUIPPED WITH VISION U, MODERN DOMESTIC DIGITAL X-RAY DEVICE

NEW DIGITAL X-RAY IN THE HEALTH CENTER UŽICE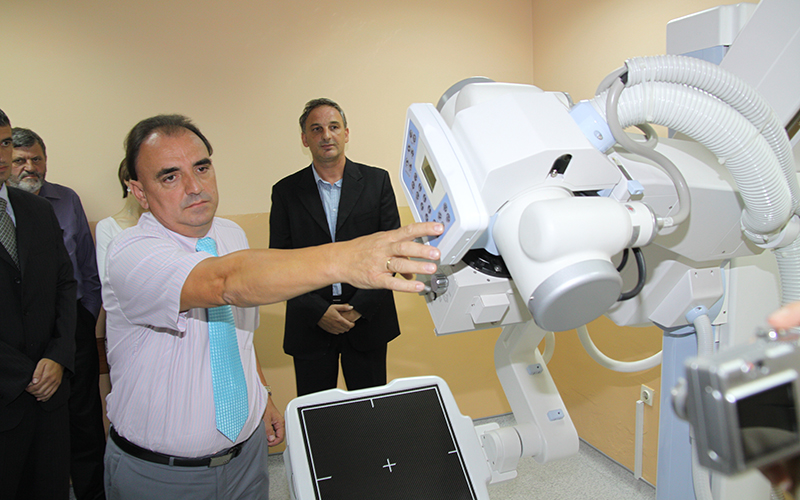 UŽICE, 27 July 2011. Serbian company Visaris, the only manufacturer of modern digital X-ray machines in Southeast Europe, installed its new digital X-ray machine Vision U in the Health Centre Uzice. Dr Miloš Božović, Director of Užice Health Centre, officially put the machine into operation together with the Director of the Užice General Hospital, Dr. Boško Ristanović, in the presence of numerous high-ranking officials.
Vision U is the latest generation of universal, motorized digital radiography (DR) systems for a wide range of general and specialist diagnostic imaging applications. Programmable auto-positioning of X-ray tube and large (43×43 cm) digital flat panel detector enable efficient and flexible imaging of all anatomies of both walking and immobile patients. Direct digital acquisition with optimally adjusted, anatomy specific imaging and image processing protocols produce clear visualization of all imaged anatomies. Single system console seamlessly controls all active system components meaning unparalleled user-friendly ergonomy and high workflow automation.
Digital Vision C is the pillar of digital radiology as it allows for operation of radiology departments without paper and film, with nearly 50% of time-saving only by eliminating film processing. It directly affects the quality of life of employees in these departments. The emission of ionizing radiation of digital devices is lower by 30 to 50% compared to analogue ones, therefore, they affect the quality of the environment, especially in medical institutions.
Visaris was founded in 2003 in Belgrade combining know-how and enthusiasm of young people who decided to apply their international experience and education in Serbia developing high-tech solutions in medical diagnostics. The company is unique not only in Serbia but also in the Southeast Europe region owing to its development program, design and solutions in the field of digital radiography and medical imaging. The company currently employs 34 people (average age is 32) and intends to hire another 30 in the upcoming period. Since 2006, 13 digital X-ray devices and 6 systems for digital image acquisition were installed in Serbia. Visaris' products are also present in Czech Republic, Germany and South Africa.
Quality Policy
Visaris' business fully complies with quality management systems and standards ISO9001 (General Quality Management Systems) and ISO13485 (Quality Management Systems for Medical Devices). The group of Visaris digital imaging systems for diagnostic X-ray technology complies with the EU Medical Device Directive 93/42/EEC and is eligible for the CE marking according to applied safety standards. Visaris' devices are registered with the Medicines and Medical Devices Agency of Serbia (ALIMS) and have marketing authorization on the territory of the Republic of Serbia.