03 Sep

HEALTH MINISTER ZLATIBOR LONČAR
VISITED VISARIS

SUPPORT TO COMPANIES EMPLOYING LOCAL EXPERTS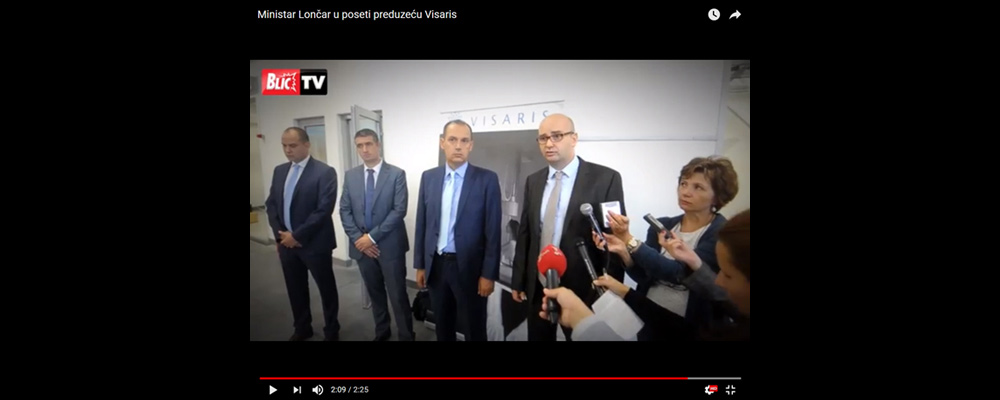 BELGRADE, 3 September 2014. Health Minister Zlatibor Loncar visited Visaris on which occasion he learned about company operation and plans for the future of this only Serbian company for the development and production of digital radiographic devices.
Since 2003, Visaris has been operating in the field of digital medicine and development of medical devices and software systems. The company markets its products in the countries in the region, while they also have plans for entry into the EU and Russian markets.
Minister Loncar's visit was another opportunity to show support to the companies that employ domestic experts and offer their competitive products on the demanding global market.
"Visaris" is a good example of recovery of the economic environment in Serbia, and it is our job to help such companies. Owing to examples like this one, our experts will stay in the country and that is why we will always support their development" – said Zlatibor Loncar, Minister of Health during his visit to Visaris.
The prices of Visaris' medical devices are up to 40 percent lower than those of its competitors, while software solutions are up to four times cheaper, with their quality fully matching other major manufacturers.
– On this occasion, we would like to express our satisfaction with the Government and Minister Lončar, for recognizing the importance of support to local new companies that successfully take part in the challenging global market using domestic resources. We are convinced that the company contributes to achieving the Government's strategic commitment to support local companies increasing competitiveness and economic stability of our country with their knowledge and products – said Vladimir Petrovic, Visaris R&D Director, pointing out that with little help, this company can become a global market leader.