14 Dec

STATE-OF-THE-ART
DIGITAL X-RAY DEVICES FROM SERBIA

A NEW GENERATION OF LOCALLY MANUFACTURED "VISION C" DIGITAL X-RAY MACHINE PRESENTED IN ''SVETI SAVA'' HOSPITAL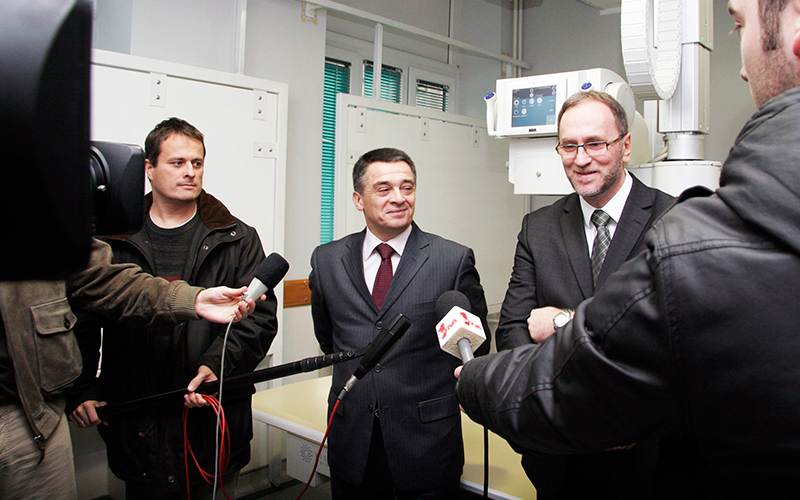 BELGRADE, 14 December 2010. Serbian company Visaris, a single manufacturer of modern digital X-ray machines, healthcare and laboratory information systems, as well as digital image acquisition systems from Southeast Europe presented the latest generation of digital VISION C X-ray devices, on the occasion of its official launch at ''Sveti Sava'' hospital.
The machine was officially put in operation by the Minister of Health of the Republic of Serbia, Tomica Milosavljević, in the presence of Dr Milan Savić, Director of "Sveti Sava" Special Hospital.
Advanced VISION C device relies on a wide range of quality and proven Visaris products of digital radiology and imaging informatics technologies. It is the crown of long-term efforts in the field of modern radiology. The idea of the device is to improve and integrate all modern technological solutions into one device that meets all the needs of serious radiography diagnostics.
Vision C is a universal digital X-ray machine with direct image digitization and ceiling suspension for all types of imaging in lying down, standing or sitting position. It is particularly suitable for imaging trauma-affected and less mobile patients, as the device setting is simple and fast. It incorporates a series of completely new technological solutions developed in Visaris. Mechanical robot system with 10 degrees positioning, x-ray tube on one side and detector on the other, was designed and developed in the company's R & D department. Electronic positioning and control system of robotic arms was also developed within the R & D department and is fully manufactured in Serbia, in the production plants of Visaris and its local subcontractors. This system provides several ways of positioning, from fully automated and programmed to manual, and its basic functions are complemented with an advanced safety monitoring system with the mechanism against the collision of mobile parts with the patient.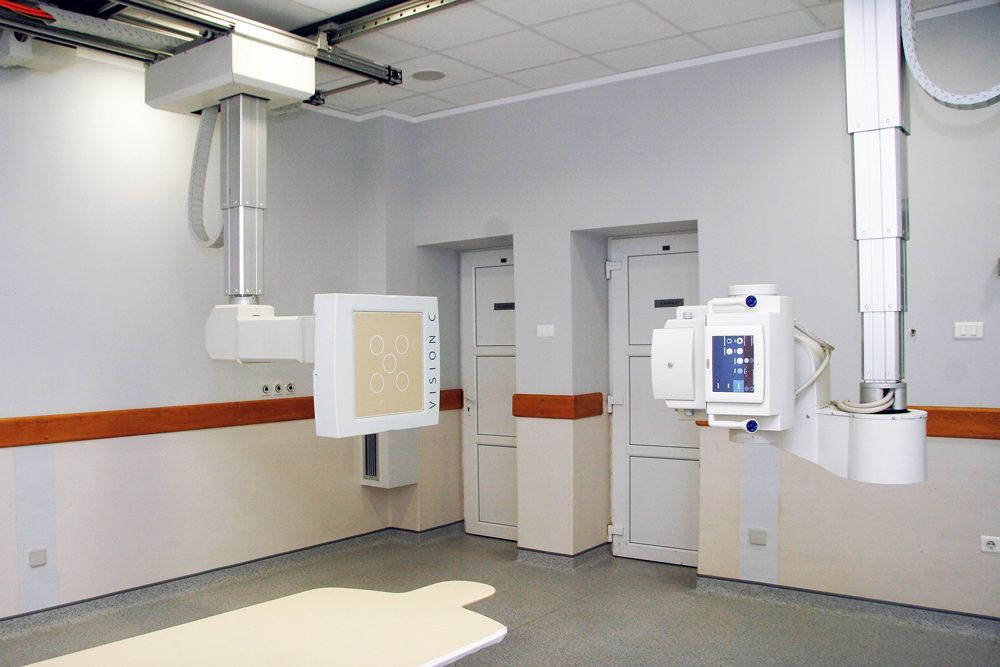 Vision C is equipped with advanced control and acquisition system of exceptional ergonomics, multilingual interface, and fully automated 3-step image processing and great efficiency: 3 seconds to monitor, 3 seconds to archive, and 3 seconds to radiology workstation. For this system, Visaris independently developed a system for processing and presentation of X-ray images.
With its presence, Vision C devices significantly improve the efficiency and diagnostics performance of radiology departments in which they are installed. It directly contributes to greater efficiency of imaging, and its multifunctional features allow a single device where previously two were needed. It also features free 3D positioning which replaces painful moving of patients, prompt scanning of injured patients, as well as new automated techniques of imaging.
Vision C is the pillar of digital radiology as it allows for operation of radiology departments without paper and film, with nearly 50% of timesaving only by eliminating film processing. It directly affects the quality of life of employees in these departments. The emission of ionizing radiation of digital devices is lower by 30 to 50% compared to analogue ones therefore, they affect the quality of the environment, especially in medical institutions.
Quality Policy
Visaris' business fully complies with quality management systems and standards ISO9001 (General Quality Management Systems) and ISO13485 (Quality Management Systems for Medical Devices). The group of Visaris digital imaging systems for diagnostic X-ray technology complies with the EU Medical Device Directive 93/42/EEC and is eligible for the CE marking according to applied safety standards. Visaris' devices are registered with the Medicines and Medical Devices Agency of Serbia (ALIMS) and have marketing authorization on the territory of the Republic of Serbia.