03 Dec

THE ZDRAVOOKHRANENIYE'2012
INTERNATIONAL EXHIBITION

SERBIAN X-RAY MANUFACTURER AT RUSSIAN HEALTH WEEK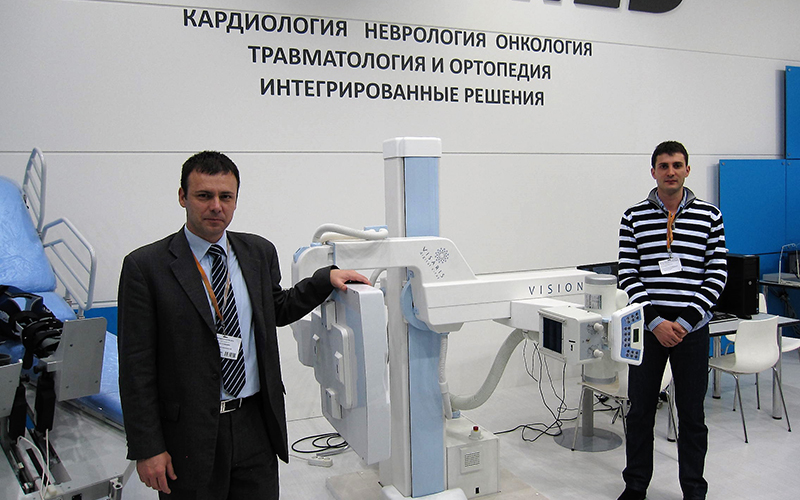 MOSCOW, 3. December 2012. Visaris company presented at International Exhibition Zdravookhraneniye'2012 the Vision U modern x-ray system. Between December 3 and 7 Expocentre Fairgrounds welcomed the main international forum of Russia on health care and social development – Russian Health Care Week'2012.
Vision U is a universal digital radiography (DR) system for a wide range of general and specialist diagnostic imaging applications. Programmable autopositioning of the X-ray tube and large (43×43 cm) digital flat panel detector enables efficient and flexible imaging of all anatomies of both walking and immobile patients. Direct digital acquisition with optimally adjusted, anatomy specific imaging and image processing protocols produces crystal clear visualizations of all imaged anatomies at significantly lower doses compared to film and CR devices.
Expocentre's largest exhibition and congress project in the health industry is supported by the Russian Ministry of Health Care and the Russian Ministry of Industry and Trade. The Forum also runs under the auspices of the Chamber of Commerce and Industry of the Russian Federation and the Moscow City Government.
This year Russian Health Week brought together a series of major exhibitions such as the 22nd International Exhibition Zdravookhraneniye'2012, the 6th International Exhibition Healthy Lifestyle'2012, and the 19thInternational Exhibition Apteka'2012.
The unique large-scale Russian Health Week'2012 featured a programme of relevant events, which included Strategy'2013, the 4th All-Russian Forum on Supplies of Medical Equipment and Medical Devices in Hospitals; SportMed'2012, the 7th International Science Conference on the State and Prospects of Medical Development of Sports of High Achievements; Radiology in Russia: Prospects for Development, the 2nd All-Russian Scientific Congress of Radiologists; Stomatology'2012, the 14th Annual Scientific Forum; a Russian Medical Investment Forum; an International Medical and Pharmaceutical Business Forum; as well as seminars, conferences, round tables and presentations of participants. All events were held at the highest professional level.
Some of the most significant events of Russian Health Week'2012 were Zdravookhraneniye'2012, the 22ndInternational Exhibition for Health Care, Medical Equipment and Pharmaceuticals, and Healthy Lifestyle'2012, the 6th International Exhibition for Rehabilitation and Prevention, Aesthetic Medicine, Health Care Technologies and Products for Healthy Lifestyle.
The international recognition and high prestige of Zdravookhraneniye and Healthy Lifestyle are highlighted by the labels of approval of UFI, the Global Association of the Exhibition Industry, and RUEF, the Russian Union of Exhibitions and Fairs.