12 Nov

UPGRADED VERSION OF VISION U PRESENTED AT
MEDICA 2017

VISARIS AT MEDICA 2017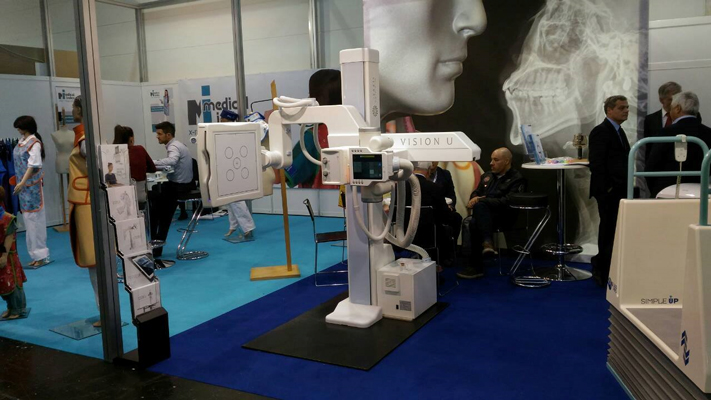 DUSSELDORF, GERMANY 12.12.2017. Serbian company for the production of digital X-ray Visaris presented its advanced digital radiological device VISION U at the MEDICA 2017 event from 13 to 17 November 2017 in Düsseldorf.
Vision U is the latest generation, universal digital radiography (DR) system for a wide range of general and specialist diagnostic imaging applications. Programmable autopositioning of the X-ray tube and large (43×43 cm) digital flat panel detector enables efficient and flexible imaging of all anatomies of both walking and immobile patients. Direct digital acquisition with optimally adjusted, anatomy specific imaging and image processing protocols produces crystal clear visualizations of all imaged anatomies at significantly lower doses compared to film and CR devices.  A single system console seamlessly controls all active system components meaning unparalleled user ergonomy and high workflow automation. Whether you need general inpatient imaging or traumatized immobile patients Vision U provides high patient throughput at the outstanding diagnostic quality.
MEDICA, the world's leading medical trade fair – to take place in Düsseldorf from 13 to 16 November 2017 – will be embracing this dynamic with the presentation of new products by more than 5,000 exhibitors from 68 countries and by devoting the content of the accompanying conferences and expert forums to it. 
MEDICA is the world's largest event for the medical sector. For more than 40 years it has been firmly established on every expert's calendar. There are many reasons why MEDICA is so unique. Firstly, the event is the largest medical trade fair in the world – in 2016 it attracted more than 5,100 exhibitors from 70 countries in 17 halls. Furthermore, each year, leading individuals from the fields of business, research, and politics grace this top-class event with their presence — naturally alongside tens of thousands of national and international experts and decision-makers from the sector, such as yourself. An extensive exhibition and an ambitious program — which together present the entire spectrum of innovations for outpatient and clinical care — await you in Düsseldorf.