23 Mar

"VISARIS" AWARDED
"2010 AUREA"

INVESTMENT OF THE YEAR IN SERBIA ANNOUNCED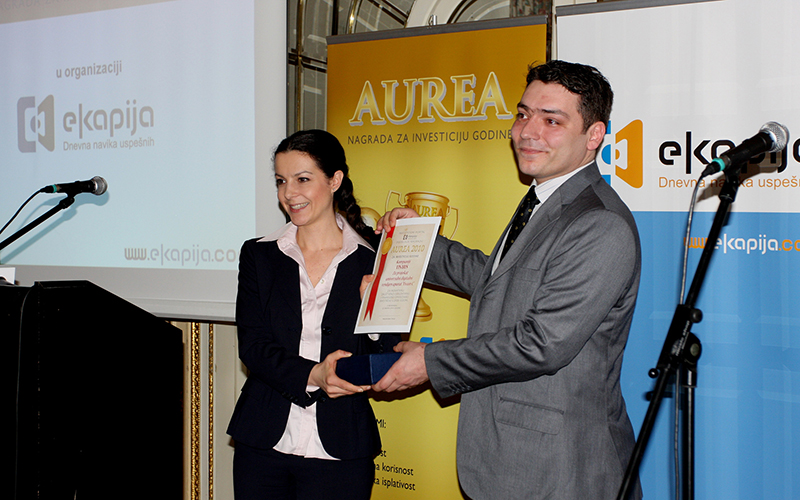 Vesna Peric hands the "2010 Aurea" award to Nikola Golovic from "Visaris"
BELGRADE, 23 March 2010. Belgrade-based Visaris is the laureate of the award for the investment of the year – 2010 Aurea, awarded by business portal eKapija.com for the production of universal X-ray machine – Vision C. The presentation of awards for the best investments in Serbia in 2009 was held in Aeroklub in Belgrade, in the presence of numerous representatives foreign diplomats, business community and media.
Vesna Perić, the Director of Serbian Investment and Export Promotion Agency (SIEPA), handed the award to the winner. On that occasion, she said:
– It is with great pleasure that I accepted to be a member of the jury for the selection of the investment of the year – 2010 Aurea. The role of SIEPA is to promote new investments and in doing so, we highly appreciate support extended through e-Kapija initiative. However, promoting Serbia as a good investment location is only a part of our job, while much more important is to provide all the necessary support to new investment project and those companies that already operate in our country. SIEPA also supports direct investments financially by 2.000 to 5.000 EUR grants to investors for each new job created through investments in the production sector – Perić said.
Nikola Golović, the co-owner of Visaris, said that 2010 Aurea award represented the proof that contemporary technological solutions can be made in Serbia if young domestic companies are offered opportunities and adequate support.
– There is a huge need in Serbia for quality digital diagnostics and we already have the know-how. Visaris has been developing modern technologies in the area of radiology from the very beginning. We are aware of the fact that top quality, smart and brave solutions represent the right way for the appearance of domestic products in the global market and we advise all those with ideas to believe in them and in their own abilities. We would like to thank the team of business portal e-Kapija, expert jury and the public for the award we received – said Golović.