12 Oct

VISION V AND PACS SYSTEM
INSTALLED IN KRŠKO

VISARIS ENTERS THE SLOVENIAN MARKET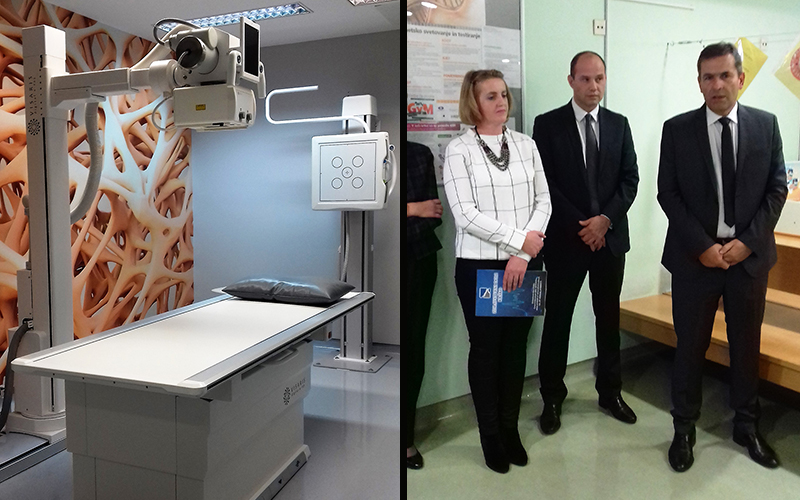 Director of the Krško Health Centre, Tatjana Fabjančič Pavlič, Visaris Director, Marko Popović and the mayor of Krško, Miran Stanko
KRŠKO, SLOVENIJA 12 October 2017. Visaris, a Serbian manufacturer of digital X-rays, installed its first radiological digital device VISION V and PACS image archiving system at Krško Health Centre in Slovenia. Mayor of Krško, Miran Stanko, director of Krško Health Centre, Tatjana Fabjančič Pavlič, director of Visaris, Marko Petrović and numerous guests from Slovenian healthcare institutions attended the event.
"This is our first installation in Slovenia and we hope that many more of our devices will be of service in the health diagnostics of Slovenia, as dozens of our most advanced digital devices are successfully in service all over the world. We are proud to include Slovenia in our portfolio which covers 19 countries from America to Australia, and at the same time, we are grateful for the trust you have put in us," said Marko Petrovic, Visaris director and added that "Visaris' digital devices have been in use for more than a decade in healthcare institutions around the world and that they have passed the test of time which proved their exceptional reliability and functionality."
Visaris Scientific Team developed original and unique digital image processing solutions that rank this Serbian company among the world's most successful manufacturers of digital X-ray machines. The company provides permanent customer support 24 hours a day, and the advantages of digital X-ray devices compared to the analog ones are numerous, starting from lower radiation, more precise and sensitive images, to more detailed testing and easier archiving.
Visaris was founded in 2003 in Belgrade combining know-how and enthusiasm of young people who decided to apply their international experience and education in Serbia developing high-tech solutions in medical diagnostics. The company is unique not only in Serbia but also in the Southeast Europe region owing to its development program, design and solutions in the field of digital radiography and medical imaging. The company currently has 60 employees. By 2017, Visaris has successfully carried out over 300 commercial installations, thus securing leading position in digital radiology on the territory of Serbia and becoming one of the major manufacturers of digital X-ray machines in the world. Visaris devices are present in the Czech Republic, Germany, Slovenia, Switzerland, South Africa, USA, Cuba, Jamaica, Great Britain, Portugal, Poland, Iran, Turkey, Romania, Montenegro, Pakistan, Taiwan and Australia.
Quality Policy
Visaris' business fully complies with quality management systems and standards ISO9001 (General Quality Management Systems) and ISO13485 (Quality Management Systems for Medical Devices). The group of Visaris digital imaging systems for diagnostic X-ray technology complies with the EU Medical Device Directive 93/42/EEC and is eligible for the CE marking according to applied safety standards. Visaris' devices are registered with the Medicines and Medical Devices Agency of Serbia (ALIMS) and have marketing authorization on the territory of the Republic of Serbia.