14 Jun

X-RAY IMAGES
DIRECTLY ON DOCTOR'S COMPUTER

"VISARIS" DIGITAL X-RAY MACHINE IN THE COMMUNITY HEALTH CENTRE IN NEW BELGRADE'S BLOCK 44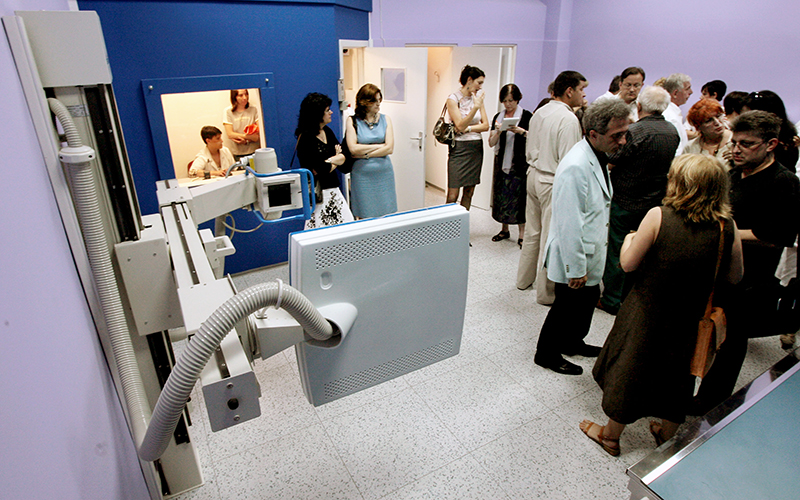 BELGRADE, 14 June 2007. The Community Health Center "Novi Beograd" in Block 44 presented a new digital X-ray machine,  now available to the patients in the Department of Radiology and Ultrasound Diagnostics.
Director, Radmila Trmčić, said that the Health Center purchased two digital X-ray machines from its own funds, to modernize healthcare services and simplify diagnostics. One of the new devices is located in Occupational Health Centre, also in New Belgrade.
She added that duration of x-ray imaging is reduced to a few seconds with these devices, and the result is a clearer image and four to five times less radiation than with conventional X-rays used up to date. These devices are connected to an existing information system of the Health Center, so the images arrive directly to the doctor's computer or, if necessary, to any other address.
The representatives of "Visaris" company, which is the only manufacturer of modern medical equipment in Serbia, presented technical properties of the new X-ray machine, with a very sensitive detective digital system and more importantly radiation detector.
With its products made according to top European standards, Visaris provided digital radiographs for the Institute of Radiology and Oncology, Institute of Rheumatology and Health Center "Stari grad". Visaris announced the installation of digital X-rays at the University Children's Clinic in Tiršova street and in a hospital in the city of Kraljevo where the device will be purchased through the World Bank loan project.