10 Apr

DEVELOPMENT OF THE NEW MOBILE X-RAY SET

VISION M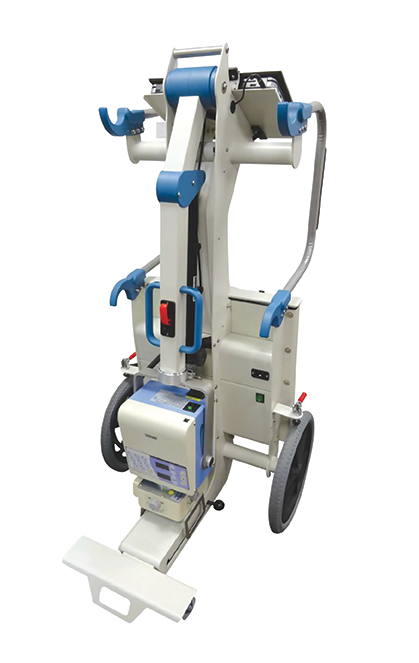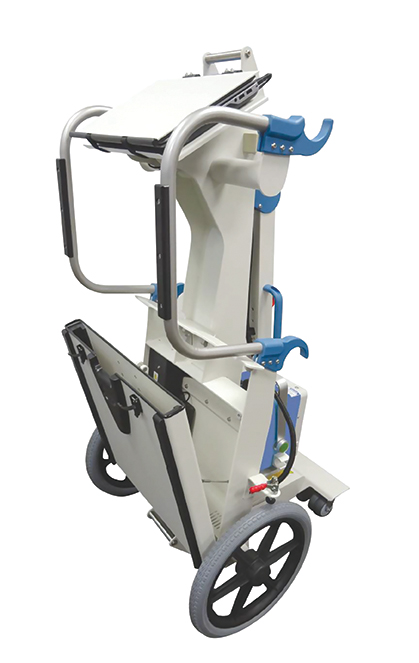 BELGRADE 10 April 2020. VISION M  is the portable digital X-ray set designed for various kinds of radiographic exams of patients in hospital wards, nursing homes or home-bound patients. With a light-weight, easy to handle mobile cart with an integrated X-ray source arm, it enables simple, comfortable and above all safe approach for both the patient and the operator. Robust and simple design of the cart enabling fast and easy positioning. The process is extremely simple and safe and is performed in a fast and comfortable way.
Well-appreciated Avanse imaging in mobile application
Lightweight, small footprint
Tech friendly, easy-glide retractable stability leg
Fully integrated workflow, generator control
Scalable source power up to 5 kW
Secure DR panel storage bin
Protective, fixed laptop and mount
Modern, ergonomic design
Automatic APR setting of the X-ray head
Control generator settings from laptop
AVANSE DR IMAGING SYSTEM with one WiFi detector
Thales/Varex/iRay (CsI), portable WiFi flat panel detector
High-performance laptop, WiFi router
AVANSE DR Software
VISION M Digital X-ray set is composed of following assemblies and components:
Mobile cart with integrated folding arm for X-ray source, detector safety drawer and lap top stand
Monoblock X-ray source
3543 digital flat panel CsI detector
Notebook PC workstation with Avanse DR imaging and acquisition software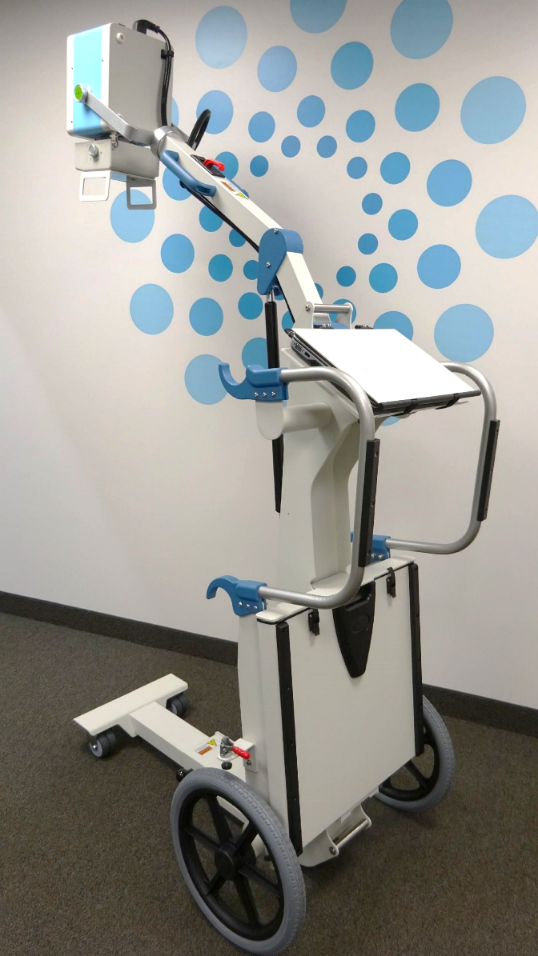 1.Vision M portable cart
Portable cart that is a part of VISION M set is light weight structure designed for safe and easy handling. With two large wheels and two retractable arms with small wheels it enables easy transporting up and down the stairs and packing in the vehicle.
Integrated folding arm enables support for X-ray source. Weight of a complete set is less than 60 kg.
 2. X-ray source
Monoblock X-ray source of VISION M includes radiographic high voltage generator, X-ray tube and manual collimator.
X-ray source – technical characteristics
Brand and model
Poskom PXP-40HF
Poskom PXP-60HF
Max. Output (KW)
2.4  kW
3.2 kW
KV range per 1kV step
40-100 kV
40-100 kV
Max. mA
35 mA
60 mA
mAs Range/No. of step
0.4~100 / 25Steps
0.4~100 / 25Steps
Tube Focal Spot (mm)
1.2 x 1.2 mm
2 x 2 mm
Target Angle
16°
20°
Integrated manual collimator
ü
ü
Power Supply
100~120V / 200~240V

Single phase

100~120V / 200~240V

Single phase
3. Digital flat panel detector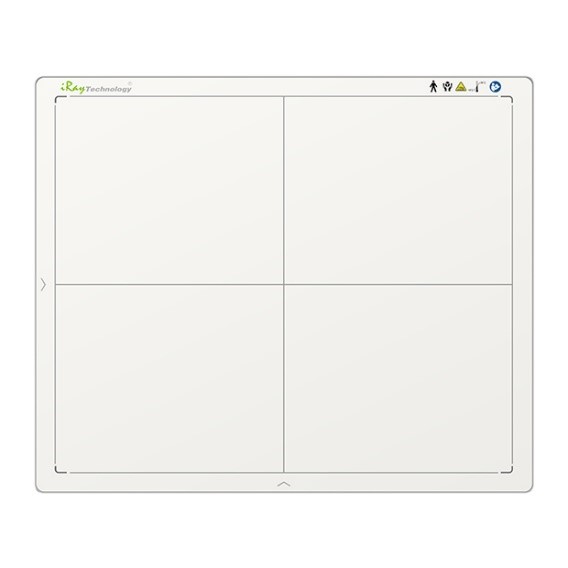 VISION M is configured with a high sensitivity wireless portable CsI digital flat panel detector iRay Mars 1417V.
Flat panel detector – technical characteristics
| | |
| --- | --- |
| Brand and model | iRay Mars 1417V3 |
| Detector technology | Amorphous silicon |
| Scintillator | CsI |
| Detector size | 14 x 17"/35 x 43 cm |
| Pixel matrix | 2304 x 2800 |
| Pixel pitch | 150 μm |
| AD conversion | 16 bit |
| Battery autonomy | 5 h |
| WiFi | 2.4 G and 5 G, IEEE802.11 a/b/g/n/ac |
| Trigger mode | Software sync |
| Outer dimensions | 384 x 460 x 15 mm |
| Weight | 3.6 kg |
| Static loading | 150 kg uniformly |
| Battery charger | ✓ |
| Number of batteries in a set | 2 |
4. Avanse Acquisition and Imaging System
Acquisition and imaging workstation Visaris Avanse is the integral component of the VISION M set. It is designed for centralized control of the digital radiography system. It is the control center from which the generator (exposure control, selection of anatomy program) and acquisition and imaging system (patient data, worklist import, image post-processing and DICOM operations) are controlled.
Patient imaging is performed in extremely simple way, maximally adjusted to the needs of an x-ray technologist. User interface is in customer's language. Five essential steps in workflow are:
Selection of patient
Selection of projections
Exposure
Image processing
Image export and publishing
DICOM Modality Worklist integration
Besides the usual way of direct input of patient data the acquisition system supports the import of modality worklists (MWL) in DICOM format from the supported MWL or PACS servers. User interface enables simple query of created MWLs by patient or modality details and their direct import in workflow.
Image processing
The system offers extraordinary post-processing features for visualization of region of interest (screenshot shown in following image). Some of the basic image processing tools are:
Histogram (selection of grayscale range for the best view of ROI);
Horizontal and vertical image flipping;
Zoom in or zoom out;
Cropping of ROI;
Measurements of distances;
Positive, negative view;
Exposure index display for every image;
Magnification of details;
Image archiving on PACS server in DICOM format etc.
Software for optimization of image quality
Besides the usual tools for image processing, Avanse acquisition console provides a number of specialized advanced techniques of image post-processing. Visaris ß (Beta) algorithm enables normalization and harmonization of response of grayscale for wide range of exposure parameters thus enabling a way increased sensitivity compared to conventional and CR systems. That way the acceptable image quality, contrast and brightness is achieved in underexposed and overexposed regions. By this multi-frequency processing of X-ray image the structure of bones and soft tissue is enhanced. Predefined parameters of image processing are changeable and the chosen values can be saved.
Printing, archiving and making annotations
The printing module of processed images enables selection of printing media (paper or film), format of media, slection of desire display of rows and columns, and printing of images with annotations showing patient and anatomy details, orientation, exposure parameters etc.
Avanse acquisition and imaging workstation
High-performance notebook PC, multi-core processor
Hard disk drive
256 GB SSD
Full HD LCD display
15"
WiFi access point
Operating system
Windows 10
DICOM 3.0 MWL SCU import of modality worklists, Store, Print, Query, Retrieve, MPPS, Storage commitment
Tools for image processing: zoom, contrast, brightness, rotate, flip, inverse, magnification
Algorithm for automatic harmonization
Advanced tools for image processing with enhanced visualization of bones and soft tissues
Integration with PACS enabled
Image printing on paper or film
Image archival and export in DICOM format