31 May

The World Is Conquered By Good Teams, And We Have One

Marko Petrović, Managing Director Of Visaris d.o.o.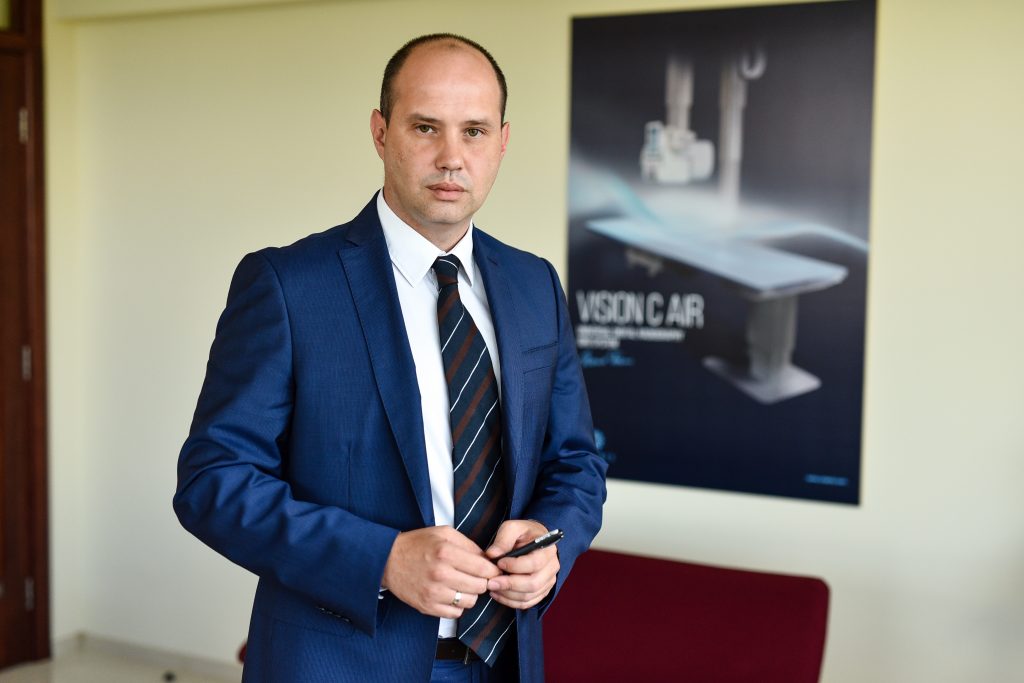 BELGRADE 31.05.2018. Serbia's only manufacturer of X-ray machines, private company Visaris, exports as much as 85 percent of its production to twenty countries around the world, but mostly to the U.S., which serves as the best confirmation of their quality. Judging by plans and announced deals, it seems that this company's time is yet to come
We are competitive thanks to our development team, which creates a high-quality product at a reasonable price.
Apart from that, from the very beginning, we have adhered to the principle of direct communication – straight talk, which implies sincerity even if that costs us a contract. And that's something the world appreciates
In just 15 years of operating, you have entered into the company of the world's best producers of X-ray machines. What does it feel like to stand shoulder-to-shoulder with, and often even ahead of, companies like Siemens, Kodak, Philips and other giants?
It's great to be in the company of the best, but that brings with it great responsibility and an obligation to improve and advance. Fortunately, we offer a product that isn't subjected to impulse buying, but rather implies a complex decision-making process on investment, and in that sense, the brand's size or level of recognition is not a decisive factor. Moreover, the area in which we operate is extremely well regulated, so the number of competitors and customers-users is reduced to the maximum possible extent.
---
"We would like there to be another company in Serbia dealing with this business, because that would enable us to more easily consolidate our interests and would represent a driver that the state could recognise and support"
---
This means that, provided you have good references and an appropriate approach to potential clients, you have a much greater chance of establishing cooperation. It is for this reason that we have adopted the 'straight talk' principle of direct communication, which implies that we are always sincere, even if that costs us contracts. Before establishing any kind of cooperation, we strive to provide the client with that which is most valuable to them, and that is good advice.
This year we are celebrating 15 years since our establishment, just like CorD magazine, so we also wish you a happy birthday and for the next 15 years to be even more successful and meaningful.
How superior are your appliances to conventional radiological devices? Is digital radiographic diagnostics safer for both radiologists and patients than 3D devices like CT scanners?
Digital devices produce a higher quality image with lower doses of radiation, and all in just a few seconds. Furthermore, those images are made in a digital format, enabling the creation of permanent archives, as well as rendering them immediate visibility anywhere in the world with an internet connection.
Doctors are increasingly using this method due to it having the most favourably small dose of radiation and due to the diagnostic content of the image. 3D modalities, including CT scanners, are undoubtedly very significant and useful techniques, but they are fortunately not a necessity for the vast majority of patients.
You are the only company in Serbia to produce a universal digital X-ray apparatus for recording images of patients in all positions. How many are there in Serbia?
We have about 50 installations in Serbia at present and, thanks to the favourable ratio between price and quality, we expect this number to increase in the period ahead. Although the equipment used in Serbia is on average obsolete, the process of budgeting and conducting procurement processes for public institutions is unnecessarily complicated, slow and often illogical.
Your devices are 20 to 30 per cent cheaper than devices produced elsewhere in the world that offer the same performance. How have you managed this?
Certain components, such as flat panel detectors or generators, are purchased by all world manufacturers from the same suppliers, so our price competitiveness is reflected in the intellectual part of the product.
We can give thanks for this to our development team, which gathers together top computer programmers, mathematicians, physicists, mechanical and electronics engineers, as well as a large number of external associated in the fields of biomedical engineering, radiology and others.
Thanks to digital images stored on a computer and on the Cloud, second independent opinions, which are required for a large number of medical examinations, can be quickly obtained even from a doctor who is on the other side of the world. Furthermore, we no longer use various chemicals and nondegradable celluloid, with which we contribute to preserving a healthy environment
This has allowed us to perfect the technique of converting raw X rays into images on the screen, which is also the most complex part of the device. Apart from that, we also have our own solutions for robotics, internal communication and the synchronisation of mechanics, electricity and radiation, which means that the "eyes, brain and nervous system" of the device are a work of Serbian logic.
Technical professions comprise the predominant profiles among employees. We employ around 50 people, 20 of whom work in development, which we consider our greatest success, as there are few private companies in Serbia that invest so much in their own technology and personnel. We have people from all schools and colleges in Serbia, but we are also interested in attracting high-quality personnel from foreign universities.
Do you rely on domestic or foreign associates and suppliers? How much does Visaris contribute to the development of Serbia's economy?
We rely on foreign suppliers for parts not manufactured in Serbia, but for everything else we use domestic suppliers. We foster lasting and fair relations with everyone. Alongside the multiplier effect on suppliers and obvious contributions in terms of taxes and foreign exchange inflows, I consider Visaris's greatest contribution its message to young people in Serbia that, just like in sports, we can also prove victorious in the world when it comes to production and services.
You currently export to 21 countries on six continents and have more than 500 installed digital systems. What are your plans for expanding your business?
We find ourselves in a very dynamic phase of development, with our references working for us. We have matured enough and proven that we are a stable and long-term partner to our clients. We will expand our business in three directions: firstly through our distributors under the "Visaris" brand; secondly through service production for large world brands, where the Visaris name does not appear at all; and thirdly through the development of a new generation of products in cutting edge dynamic imaging technology, where we plan to offer the world 3D solutions for X-ray cabinets. The world's biggest manufacturers are also heading in this direction, so we are pleased that we will again be able to compare ourselves to the best.
You provide the users of your devices with support 24/7. We presume that you are also unique in Serbia in that sense?
In Serbia, it only pays for Visaris to provide support 24 hours a day, because we have a large number of clients outside the country, including in Australia, Cuba, Taiwan, the United States, South Africa and other distant locations. This means that we are always able to be available to our partners and clients both in the country and abroad, and we see that our users appreciate that very much.